I am able to download, install, open and use the Organic Chemistry and Biology labs, but the Chemistry one is stuck at 'Installing at 100%/ Moving Chemistry into place and finalizing'. It has been for a couple days now. any ideas?
Also I just tried rebooting my computer. It was able to clear the above messages for Chemistry and was back to showing 'Install'. When I clicked on that, it went through the Install process, but stalled at the same place (i.e. showing the same messages as noted above).
Further to the above, I noticed this error message as well.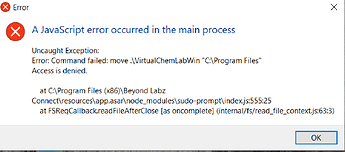 Summary

This text will be hidden